Nano Series
Les Mills x Reebok workouts. Exclusive to LES MILLS On Demand.
Try free for 30 days
Free trial for new customers only. Cancel anytime, including before first payment. Subscription payments start after end of free trial.
Discover
The Les Mills X Reebok Nano X1
Climb, jump and throw the barbell around in shoes made for the way you work out.
Shop Now
Workouts RE–IMAGINED
Transformative strength workouts, HIIT, core training and more. Discover new ways to conquer your goals, on your time.
BODYPUMP
A full-body barbell workout that trains all your major muscle groups and leaves you feeling strong, lean and powerful.
GRIT
A game-changing HIIT workout to blast all major muscle groups, improve fitness and build lean muscle.
World-class instructors
Maximize results with motivation, inspiration and expert guidance from the world's top trainers.
Train with Ben
Motivational beyond measure, Ben Main is a sports-loving athlete who consistently brings the burn and drives you to achieve what you never imagined.
Train with Tash
Tash Vincent is a dynamic fitness pro who dominates every workout with fierce prowess. Pushing you to embrace new challenges, she'll leave you feeling strong, toned and powerful.
Train with Erin
A true HIIT-demon, Erin Maw brings epic energy and creativity to every workout. She will spike your heart rate and keep you going when you've got nothing left in the tank.
Train with Antoine
Antoine brings invigorating intensity with precise coaching and passion. Whatever the workout you can expect power and challenge every time.
Train with Corey
You can rely on Corey to raise the bar with new challenges and excitement. He is a sought-after personal trainer who plays a key role shaping and presenting LES MILLS CORE.
Train with Des
No one brings the heat like Des does. This fun-loving athlete has a remarkable knack for pushing you to your limit, smiling and laughing every step of the way.
Train with Kayla
Kayla fronts up with warmth, focus and support during the toughest fitness challenges. She'll push you to your limits, inspire you, and nurture you all at the same time.
Work out at home or on the go
World-class instructors to motivate and push you.
Scientifically-designed to get results.
Beginner to advanced workout plans.
No equipment needed to start.
All-access to 1000+ online workouts.
24/7 motivation from a supportive Facebook community.
A vibrant community
Share your journey with a supportive and inspiring fitness community. Get exclusive access to our online squad with 140,000+ members. #lesmillsondemand


Here's what members are saying
Wordswithpeople007
Les Mills has changed my life!! Thank you for making constant changes that make Les Mills on Demand better. I am a 52 year old woman who thought exercise word eventually become difficult to do.
Kaitlin Kanabay
Love, love, love! I absolutely love this! I have access to all of my favorite workouts 24/7 which makes this single mama's getting a workout in so much easier. Before this I was missing out and trying to coordinate w my gym and not always able to make it. Now I can do the workouts at the gym or at home anytime and never miss a workout!
udele bodnar
Great program. I get all my favorites right at home on my schedule. I can pause if I need to, I can take it on the road with me, and try things that I might not have the courage to do in person at home where no one can laugh at me.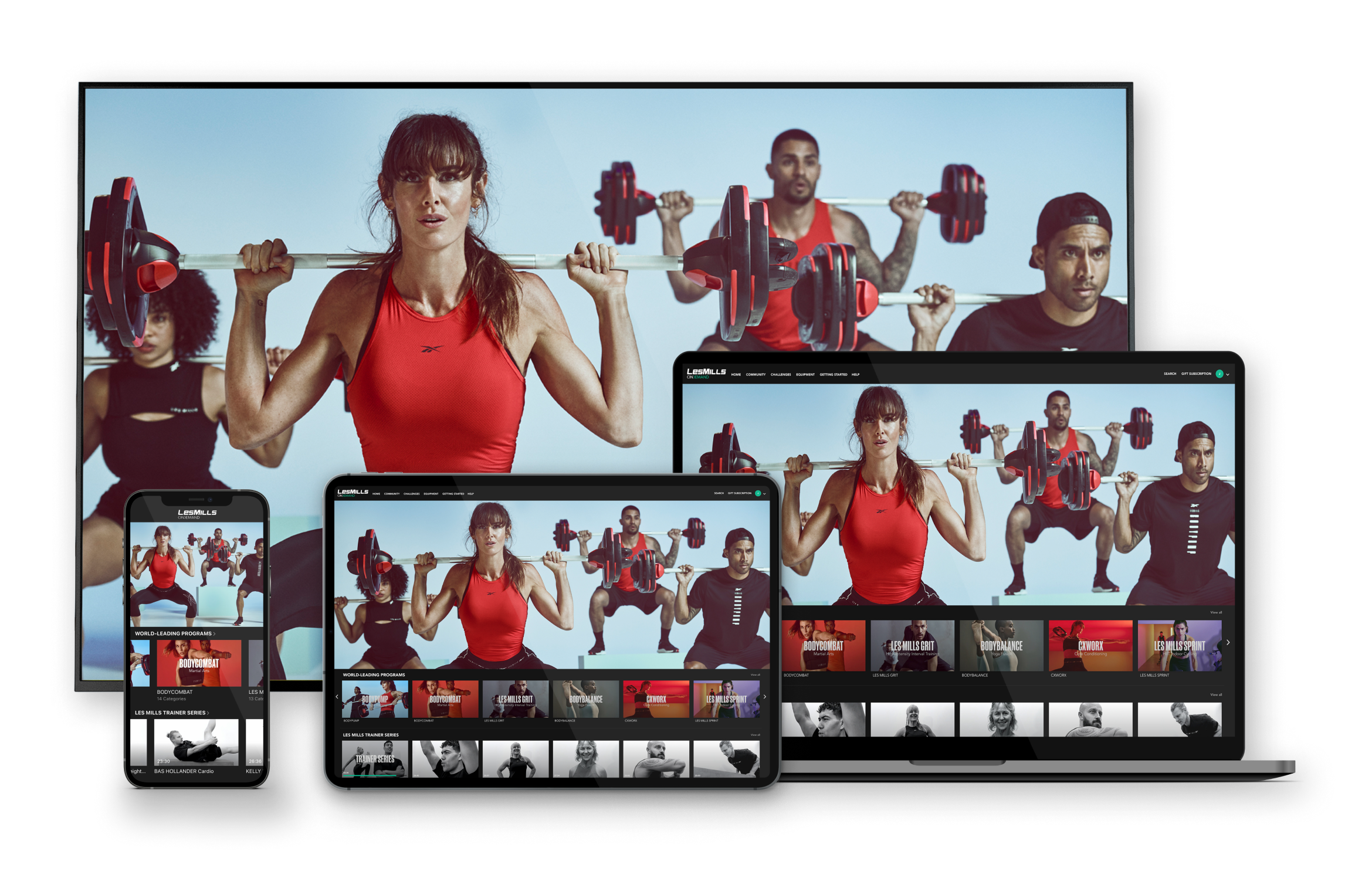 Watch les mills on demand on any device
Stream from your TV, laptop, mobile or tablet. Download workouts on iOS and Android. Compatible with Chromecast and Airplay.
Web
IOS & ANDROID
IOS & ANDROID
XBOX Consoles
Chromecast
Frequently Asked Questions
What is LES MILLS On Demand?
LES MILLS On Demand allows you to enjoy the Les Mills in-club experience in the comfort and convenience of your home with over 1000 workouts from our most popular Les Mills programs.
The workouts taught live in gym/club facilities are customized and made available to you as online videos.
Workouts range from 15 – 60 minutes, ideal for in-home and on-the-go. They are just as challenging and rewarding as going to the gym. In addition, LES MILLS On Demand provides a variety of workout schedules, and a Global Facebook Community to support you on your health and fitness journey and help you get the most out of your workout regimen.
Read less
Can I try it out before I buy subscription?
LES MILLS On Demand offers a free trial to new customers to try out our entire portfolio of workouts. If you're not satisfied, you can cancel your account before your trial ends and you will not be charged.
Read less
Where is LES MILLS On Demand available?
LES MILLS On Demand membership is currently available in the following countries:
Africa
South Africa
Americas
Antigua and Barbuda, Bahamas, Barbados, Canada, Dominica, Grenada, Jamaica, Puerto Rico, Saint Kitts and Nevis, Saint Lucia, Saint Vincent & The Grenadines, Trinidad and Tobago, U.S. Virgin Islands and the United States
Europe
Bulgaria, Cyprus, Czech Republic, Denmark, Estonia, Finland, Iceland, Ireland, Israel, Latvia, Lithuania, Moldova, Netherlands, Norway, Poland, Romania, Slovakia, Slovenia, Spain, Sweden and the United Kingdom
Asia Pacific
Australia, Hong Kong (Special Administrative Region of China), India, Malaysia, New Zealand, Philippines, Singapore, Thailand and Vietnam
Middle East
Azerbaijan, Bahrain, Bangladesh, Jordan, Kazakhstan, Kuwait, Kyrgyzstan, Oman, Pakistan, Qatar, Saudi Arabia, Tajikistan, Turkmenistan, United Arab Emirates and Uzbekistan
We're making our way around the world as fast as possible, and will bring membership to your region soon.
Click here if you'd like us to drop you an email to let you know when you can sign up for LES MILLS On Demand.
Read less
Can I use LES MILLS On Demand when I travel?
Yes! To access LES MILLS On Demand when you travel, you will need to download the LES MILLS On Demand App, as you will not be able to access the website from an unsupported country.
There's simple 3 step process to make sure you can access your favorite workouts anywhere.
STEP 1: Make sure you're all signed up for LES MILLS On Demand. You can register here.
STEP 2: Download LES MILLS On Demand app for your device before you leave home, then sign in.
STEP 3: Connect to a good WiFi signal, choose your workout, and go for it!
Using an iOS or Android device? With the LES MILLS On Demand iOS App and the LES MILLS On Demand Android App, you can download workouts for up to 14 days and view them at your convenience.
Read less
What LES MILLS On Demand workouts are included in my subscription?
Each and every workout on LES MILLS On Demand is included in your subscription. The following workout categories and programs are available on LES MILLS On Demand:
Cardio Workouts
BODYCOMBAT™, BODYATTACK™ & BODYSTEP™
Strength Training
BODYPUMP™
HIIT Workouts
LES MILLS GRIT™ & LES MILLS SPRINT™
Yoga & Flexibility
Yoga & BODYBALANCE™
Ab Workouts
LES MILLS BARRE™ & LES MILLS CORE™
Dance Workouts
SH'BAM™ & LES MILLS DANCE
Kids Workouts
BORN TO MOVE™
Guided Meditation
LES MILLS On Demand also offers fitness education and instruction videos to ensure you get the most of our your workouts and On Demand experience. Please note that some of the workouts offered in your gym/club facility may not be available on LES MILLS On Demand.
Read less
What are the LES MILLS On Demand subscription options?
LES MILLS On Demand offers a Monthly Subscription option, 3-monthly Subscription, and a 12-month Annual Subscription option.
Read less
Who are the instructors in the videos?
LES MILLS On Demand workouts are presented by the best of the best. Workouts are instructed by LES MILLS Program Directors, the individuals who teach and educate LES MILLS instructors around the world how to present the workouts.
Read less
How do I cancel LES MILLS On Demand?
You can cancel your LES MILLS On Demand subscription at any time in the 'My Subscriptions' section of My Account. You will need to visit the login page to be able to access My Account.
Select 'My Subscriptions' in the drop down under 'My Account' at the top of the page. Then click 'View' next to your subscription type and select 'Cancel' – you may receive a pop up confirming your cancellation, click 'Okay' to continue. Please note, if your subscription is attributed to your club membership, you will need to request cancellation via your facility to ensure they also cancel your billing agreement.
Read less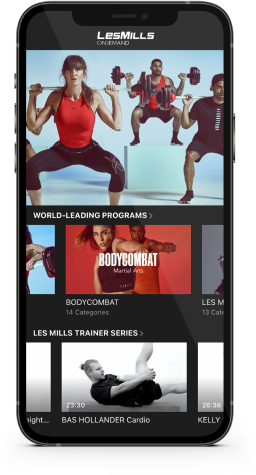 TRY THE
LES MILLS ON DEMAND
APP FOR FREE
Access our full library of workouts whenever, wherever – at home, in the gym, and on the go.
Try free for 30 days
Free trial for new customers only. Cancel anytime, including before first payment. Subscription payments start after end of free trial.